This post covers an issue that one of our trainees from Oracle AppsDBA (R12.2): Install | Patch | Clone | Maintain training (For FREE Master Class, Click here) was facing while applying the patch 27254132 & also includes the fixes of the Issue.
If you are new to Oracle E-Business Suite, then I would suggest you check our previous post where we have covered in detail about  Oracle AppsDBA (R12.2)Architecture. & Oracle AppsDBA (R12.2) Installation: Free Training
Before looking on to the issue let us discuss the overview of ADOP
ADOP Overview
ADOP stands for Application DBA Online Patching,  introduced in EBS R12.2 to patching Oracle Applications while the system is available for users during Patching.
In an Online Patching, there are five phases PREPARE -> APPLY -> FINALIZE -> CUTOVER  -> CLEANUP

ADOP is the most important new feature introduced in Oracle EBS R12.2. It is the ability to patch a running system without having to take the system down for a significant period of time while the patches are applied.
ADOP uses a dual file system (a feature introduced in R12.2) to support online patching.
adop phase=prepare -> copies the application code
adop phase=apply -> apply patches to PATCH Environment
adop phase=finalize -> makes ready the system for cutover
adop phase=cutover -> bounce the system and does filesystem switchover. fs2 becomes RUN environment.
adop phase=cleanup -> remove obsolete objects.
adop phase=fs_clone -> synchronize filesystems
Note: that after cutover the command line environment should be re-loaded as the run edition file system has changed.
In a multi-node deployment, ADOP commands are only executed from the Primary Node. The primary ADOP session uses remote execution to automatically perform the required actions on any secondary node.
What Is Hotpatch?
Online patching has been introduced in EBS 12.2. So An EBS 12.2 patch is normally applied using an ADOP online patching cycle, which is the only case tested internally before 12.2 patches are released (unless documented otherwise).
We can use Hotpatch mode only for certain patches, such as NLS and Online Help, or when it is specifically documented in the patch readme. In EBS release 12.2, certain kinds of patches are even less stable for use with "hotpatch" than they were in EBS 12.1!
Hot patching is a method for modifying the behavior of an application by modifying its binary code at runtime.
Issue
adop phase=apply patches=27254132 hotpatch=yes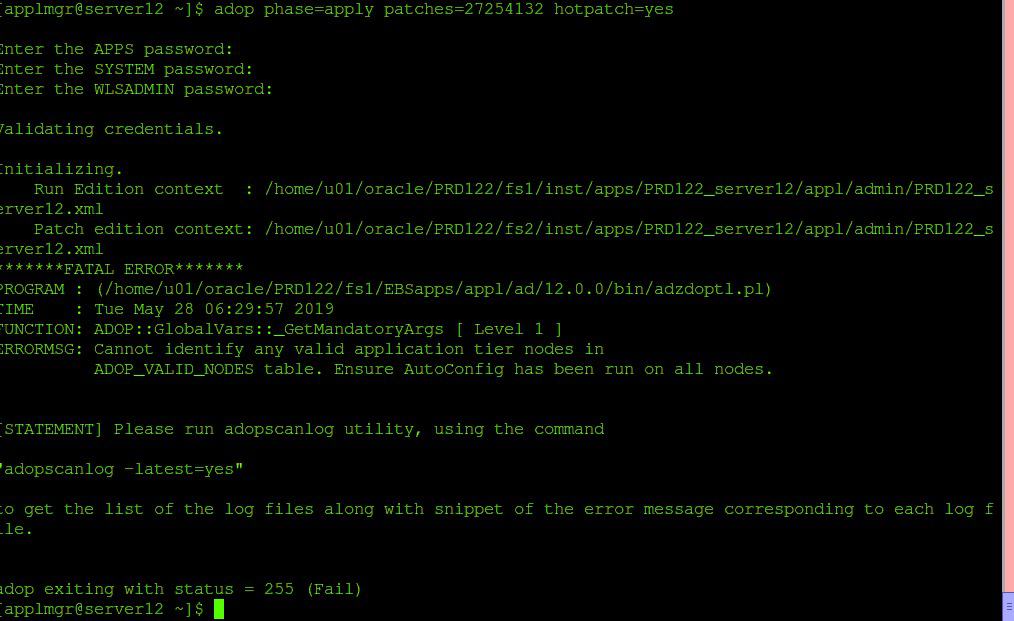 Initializing.
Run Edition context  : /home/u01/oracle/PRD122/fs1/inst/apps/PRD122_server12/appl/admin/PRD122_server12.xml
Patch edition context: /home/u01/oracle/PRD122/fs2/inst/apps/PRD122_server12/appl/admin/PRD122_server12.xml
*******FATAL ERROR*******
PROGRAM : (/home/u01/oracle/PRD122/fs1/EBSapps/appl/ad/12.0.0/bin/adzdoptl.p
l
)
TIME    : Tue May 28 06:29:57 2019
FUNCTION: ADOP::GlobalVars::_GetMandatoryArgs [ Level 1 ]
ERRORMSG: Cannot identify any valid application tier nodes in
ADOP_VALID_NODES table.
Ensure AutoConfig has been run on all nodes.[STATEMENT] Please run adopscanlog utility, using the command"adopscanlog -latest=yes"to get the list of the log files along with snippet of the error message corresponding to each log file.adop exiting with status = 255 (Fail)
Fix: After Running Autoconfig Issue Resolved
select bug_number from ad_bugs where bug_number=27254132;
BUG_NUMBER
——————————
27254132
If you like the blog don't forget to share with your friends, colleagues who are working on Oracle E-Business Suite R12 & post your comments if you  have any doubts regarding Oracle E-Business Suite R12
Related Further Readings: