This post covers Lessons Learned & Key Takeaways related to Oracle GoldenGate Processes, & DML Replication Setup from Day2 of Oracle Golden Gate Training covered from Module III.
Use these tips to learn Oracle GoldenGate & ask any questions under comment under comment and for Day1 (Module I & II) covering Architecture, Concepts, Install, and Configure GoldenGate Click HERE.
If you are not sure if you are right fit for GoldenGate or What & Why to Learn Oracle GoldenGate or How to Learn Oracle GoldenGate like experts then check my Video Post on Blog here
Here are some of the key takeaways from Day2 training covering Module III
Processes in Oracle GoldenGate
Processes of Oracle GoldenGate includes Capture, Pump, and Delivery

Capture Process (aka Extract) captures committed transaction from Transaction Logs in Source Database and writes them to Trail Files
On Source Database these Trails are called Local Trails & on Target Database, Trails Files called Remote Trail
Pump Process reads Local Trails, ships committed transactions over TCP/IP and writes to Remote Trail
Delivery Process (aka Replicat) at Target Database reads Remote Trail File and Apply Committed Transaction to Target Database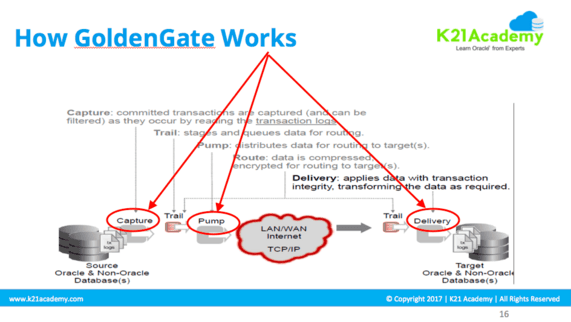 Configuration for DML Replication
 Here are high-level steps to configure DML Replication (change in table data in Source to be replicated on Target) in Oracle GoldenGate covered in
Activity Guide III
Define Capture Process to Write to Local Trail
Define Pump Process, Remote Trail and end data to Remote Trail from Pump Process over TCP/IP
Define Delivery Process to Apply changes to Target Database
Start GGSCI (GoldenGate Software Command Interface) and connect to Source Database using GGSCI>dblogin userid *** command
Add Transaction Data Capture on Tables that needs to be replicated using GGSCI> add trandata <DB>.<SCHEMA>.<TABLENAME>
Supplemental Logging is of two types i) Database Level ii) Object Level in Activity Guide II, we enabled Supplemental Logging at Database Level and in above command we are setting it at Object Level
To Configure Capture Process in GoldenGate, make sure Manager Process is configured and Running then run GGSCI> add extract <Extract/Capture_ProcessName> , integrated tranlog begin now
Length of any process in GoldenGate can't exceed more than 8 Characters
Once Capture/Extract Process is added in GoldenGate Register this Capture/Extract Process with Database using GGSCI> register extract <Extract/Capture_ProcessName> database container (<PDB_Name>)
You can use one GoldenGate Instance for multiple Databases however, one Capture Process can be used for only one database so if you have two databases create two capture/extract process and register with respective Database
It is not possible to register same extract process with two Databases
When you register extract/capture process with database, in alert log of database you'll notice Log Miner Process Starts
Define Local Trail
 Local Trails (also called exttrail) are inside dirdat folder of GoldenGate ORACLE_HOME
To define local trail run GGSCI> add exttrail </FULL_PATH/LT> extract <Extract/Capture_ProcessName> 
Trail will always be generated in format </FULL_PATH/XX><NNNNNNNN> (9 Numbers started with 0)
Every Trail file has sequence associated to it in format <two_character><NNNNNNNNN>
By Default size of trail file is 500MB by default, and max size could be 10GB
Define Data Pump & Remote Trail
 DataPump is a secondary Extract process that extracts data from Trail File whereas primary is Capture
To define Datapump run GGSCI> add extract <Extract/Capture_ProcessName> exttrailsource </FULL_PATH/LT> where </FULL_PATH/LT> is location of local trail defined in previous section
To add remote trail GGSCI> add rmttrail </FULL_PATH_ON_TARGET/RT> extract <Extract/Capture_ProcessName_ForDataPump>
Parameter Files & How to Edit
Each Process (Capture, Pump, Delivery) in GoldenGate has Parameter File associated to it
To Create Parameter file use command GGSCI> edit param <Process_Name> 
Parameter File is created under directory GoldenGate $ORACLE_HOME/dirprm
In Parameter File content is in format

First line is always  <Provess_Type> <Process_Name> where process type is like Extract or Replicat
Second line is  userid <DB_User>, password <DB_User_Password>
If process type is Extract then add location of Trail File like EXTTRAIL <Trail_File_Location>
Tables you want to extract like TABLE <Name_Of_Table_For_This_Extract_Process>;
For Dama Pump Process (Process Type as Extract) add in parameter file remotehost <IP or Hostname>,mgrport <ManagerPort_On_Remote_Host>
In parameter file, only parameter with Table Name end with ; (Semi Colon) Rest all parameters and commands on GGSCI ends without ;
Starting Extract Process & Report File
Start Processes as GGSCI> start <process_name>
Status of Process can be STARTING, RUNNING, STOPPED, ABENDED
Every Process has a report file associated to it
Report Files are generated inside GoldenGate $ORACLE_HOME/dirrpt
You can access report file from directory dirrpt or from GGSCI
To view report from GGSCI>view report <process_name>
Configure & Start Replicat Process on Target
Add replicat process using GGSCI> add replicat <Process_Name>, integrated exttrail <Localtion_Of_RemoteTrail>
Provide Mapping between Source & Target in Parameter File as
MAP <DB_NAME>.<SCHEMA_NAME>.<TABLE_NAME>, TARGET <DB_NAME>.<SCHEMA_NAME>.<TABLE_NAME> (Left Side is Source and Right Side is Target)
Start Replicat Processes as GGSCI> start <process_name>
Test Replication from Source to Target & Statistics
Test Synchronization by updating Table in Source Database
You can check statistics of each process using GGSCI>stats <process_name> to see what's being processed
Statistics are shown for data processed by that particular process since the last start of that process
Only committed data is synchronized from Source to Target
We also covered a lot of useful Q/A from Day 2 GoldenGate Training, stay Tuned for my next post for the Day 3 of Oracle  GoldenGate  Training Workshop and if you want FREE 1 Hours Session on Oracle GoldenGate then Join Waitlist Here (We'll Notify When We Re-Open FREE Webinar).
If you wish to learn GoldenGate systematically then look at Activity Guides (tasks) you must perform from our Step by Step Guide to Learn Oracle GoldenGate
If you are looking for commonly asked interview questions for Oracle GoldenGate then just click below and get that in your inbox or join our Private Facebook Group dedicated to Oracle GoldenGate Members Only.
Have a question related to your Oracle GoldenGate?   Post under comments below