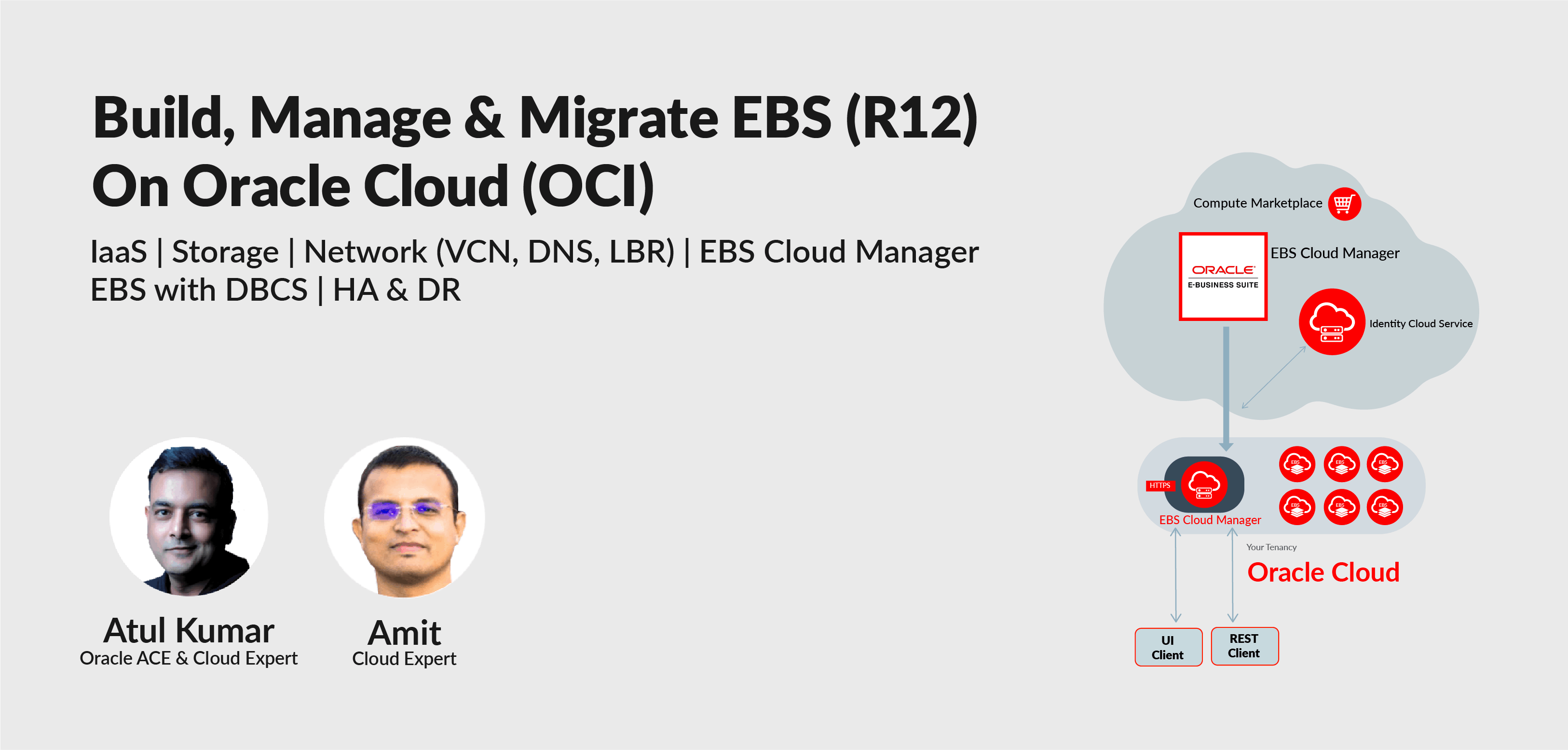 Learn Oracle EBS On Cloud Experts
Cloud Concepts, Compute Node, Creating Database on Cloud, EBS 12.2 Cloud Architecture & Components, Cloud Admin Tool, EBS on IaaS, High Availability, Provisioning, Migrating EBS to Cloud, Managing EBS on Cloud, Backup & Recovery, Integrations in EBS Cloud.
Trainer: Oracle ACE & Cloud Expert, Atul Kumar and Oracle Apps DBA Expert, Amit
What you will get…
Training Material with Hands-On Lab Exercise
Step by Step Guide to Practice
FREE Unlimited Retake for Next 1 Year
Lifetime access to recording and material
On-Job Support for Next 1 Year, via Ticketing System & WhatsApp
Course Materials
Module 1: Cloud Overview & Basics
Lesson 1: Cloud Concepts & Benefits
Lesson 2: Cloud Service Model: SaaS, PaaS, IaaS
Lesson 3: Cloud Deployment Model: Private, Public, Hybrid
Lesson 4: Cloud History & Other Cloud Vendors
Module 2: Oracle Cloud Offerings
Lesson 1: Oracle Cloud SaaS Offerings
Lesson 2: Oracle Cloud PaaS Offerings
Lesson 3: Oracle Cloud IaaS Offerings
Lesson 4: Oracle Private Cloud
Lesson 5: Oracle Cloud Competition
Module 3: EBS on Cloud Architecture
Lesson 1: EBS on Cloud Overview
Lesson 2: IaaS | DBCS Deployment Options
Lesson 3: EBS Hybrid & Dev Tools
Lesson 4: Network Option, License, Marketplace
Module 4: Create Account, Login & Generate SSH
Lesson 1:  Register for Cloud
Lesson 2: Login to Cloud
Lesson 3: Generate SSH Keys
Module 5: Create EBS R12 on Cloud using Template
Lesson 1: Create EBS on Cloud walkthrough
Lesson 2: Create EBS Environment
Lesson 3: Open SSH port 22
Lesson 4: Open WebPort & Reconfigure FrontEnd Host
Lesson 5: Unlock Sysadmin, Change Admin Password, Stop EBS Host
Module 6: EBS Cloud Admin Tool
Lesson 1: EBS Cloud Admin Tool Overview
Lesson 2: EBS Cloud Admin Tool Detail
Lesson 3: EBS Cloud Admin Tool Options
Lesson 4: Setup EBS Cloud Admin Tool
Lesson 5: Setup EBS Cloud Admin ToolTechnology Behind EBS Cloud Admin Tool
Module 7: Create EBS (R12) DB/Apps/OTD Using Cloud Admin Tool
Lesson 1: Create EBS R12 using EBS Cloud Admin Tool Overview
Lesson 2: Create EBS R12 On Cloud Options
Lesson 3: Create EBS R12 on Cloud using EBS Cloud Admin Detail
Lesson 4: AG Create EBS R12 On Cloud Using EBS Cloud Admin
Module 8: Migrate On-Premise EBS(R12) to Cloud (Lift & Shift)
Lesson 1: What is Lift-n-Shift ?
Lesson 2: Evaluation – Source Side
Lesson 3:Architecture Considerations – On-Premise/Oracle Cloud
Lesson 4: Process Overview – High Level
Lesson 5: Deep Dive –Lift-n-Shift Process
Lesson 6: Post Migrations
Lesson 7: Best Practices
Module 9: HA – EBS-On-Cloud
Lesson 1:High availability Concept
Lesson 2: Application Side
Lesson 3: Database Side
Lesson 4: How to Achieve it ?
Module 10: Cloning – EBS-On-Cloud
Lesson 1: Cloning EBS – Cloud to Cloud
Lesson 2: Cloning Options
Lesson 3: Pre-requisites
Lesson 4: Process
Lesson 5: Point to Remember
Module 11: Create Standby (DR) on Cloud for On-Premise EBS R12
Lesson 1: Basic Terminology and Concepts
Lesson 2: Why DR?
Lesson 3: Challenges
Lesson 4: Solutions – Oracle Cloud
Module 12: Security in Cloud – Users, Roles, Network, Firewall
Lesson 1: Overview of Cloud Security
Lesson 2: Network Security
Lesson 3: Open SSH Port
Lesson 4: Open Web Port
Lesson 5: Security Users & Roles
Lesson 6: Security Users & DBCS
Module 13: REST API & Cloud
Lesson 1:REST API for Cloud: Overview & History
Lesson 2: REST in Detail: Operations
Lesson 3: REST Utility in Detail
Who is the Instructor ?
Atul Kumar Oracle ACE & Author & Amit (who is Cloud Expert) are working professionals from the Industry and have at least 15+ years of relevant experience in Oracle Implementation & Support. They are subject matter experts and are trained by K21 for providing online training so that participants get a great learning experience.
Do you provide placement assistance ?
K21 Academy in partnership with OnlineAppsDBA & K21 is the largest online Oracle Implementation & Training Experts after Oracle. Lots of recruitment firms contacts us for our students profiles from time to time. Since there is a big demand for Administrators/Consultants/DBAs/, we help our certified students get connected to prospective employers. We also help our customers prepare their resumes, work on real life projects and provide assistance for interview preparation. Having said that, please understand that we don't guarantee any placements however if you go through the course diligently and complete the project you will have a very good hands on experience to work on a Live project.
Can I attend a Demo Session ?
We have limited number of participants in a live session to maintain the Quality Standards, hence, participation in a live class without enrolment is not possible unfortunately. However, we provide 100% money back guarantee within the next 60 days, as long as you show proof that you took action i.e attended sessions & did activities as mentioned in Activity Guide.
What are the system requirements to attend this training ?
All you need is good internet connection ( we recommend 0.5 MB or 512 KB ) with (headset preferably) and leave rest on us. For lab exercises you connect to K21 cloud remotely using VNC client that is freely available . We provide step by step instructions to connect to our servers in word with screenshots and we also provide video instructions for this.
More queries ? Contact Us
Contact us at contact@k21academy.com or give us a call on US +1 415 655 1723 | India +91 844 844 8901