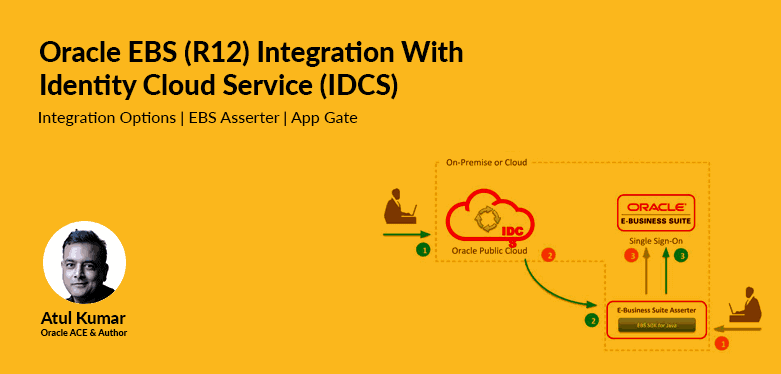 Learn Oracle EBS (R12) Integration With Identity and Cloud Service (IDCS), from  
Trainer: Oracle ACE & Author, Atul Kumar
What will you get?
Training Material with Hands-On Lab Exercise
18×5 Email Support(contact@academy.com)
Whatsapp Group Support
Course Materials
Module 1: Course Overview.
Lesson 1: EBS IDCS Course Overview
Module 2: Designing Applications for Performance and Scalability
Lesson 1: Register For FREE Oracle Cloud Account
Lesson 2: Access Oracle Cloud Account
Module 3: EBS IDCS Integration Options
Lesson 1: EBS IDCS Existing OnPremise SSO Pros-Cons
Lesson 2: IDCS Overview
Lesson 3: Integration Options EBSAsserter AppGate
Module 4: EBS Asserter Configuration
Lesson 1: EBSAsserter Overview
Lesson 2: EBSAsserter Config High Level Steps
Lesson 3: EBSAsserter_Config_LowLevel_Steps
Lesson 4: Configure AppInIDCS Generate DBC Import SSL
Lesson 5:Configure DataSource Deploy Asserter
Module 5: IDCS App Gate Deployment
Lesson 1: AppGate Overview
Lesson 2: Install AppGate
Lesson 3: Configure AppGate
Lesson 4: Create TrsustedApp Define IdP
Lesson 5: Configure EBS App Gateway WrapUp
Who is the Instructor?
Our Instructor is working professionals from the Industry and have at least 12-15 years of relevant experience in Oracle Implementation & Support. They are subject matter experts and are trained by K21 for providing online training so that participants get a great learning experience.
Can I attend Demo session?
We have limited number of participants in a live session to maintain the Quality Standards, hence, participation in a live class without enrolment is not possible unfortunately. However, we provide 100% money back guarantee so if you are not happy with training after Day1, inform trainer or contact our Support Team and we will refund full money back with no questions asked.
What are the system requirements to attend this training?
All you need is good internet connection ( we recommend 0.5 MB or 512 KB ) with (headset preferably) and leave rest on us. For lab exercises you connect to K21 cloud remotely using VNC client that is freely available . We provide step by step instructions to connect to our servers in word with screenshots and we also provide video instructions for this.
More queries ? Contact Us
Contact us at contact@k21academy.com or give us a call on US +1 415 655 1723 | India +91 844 844 8901