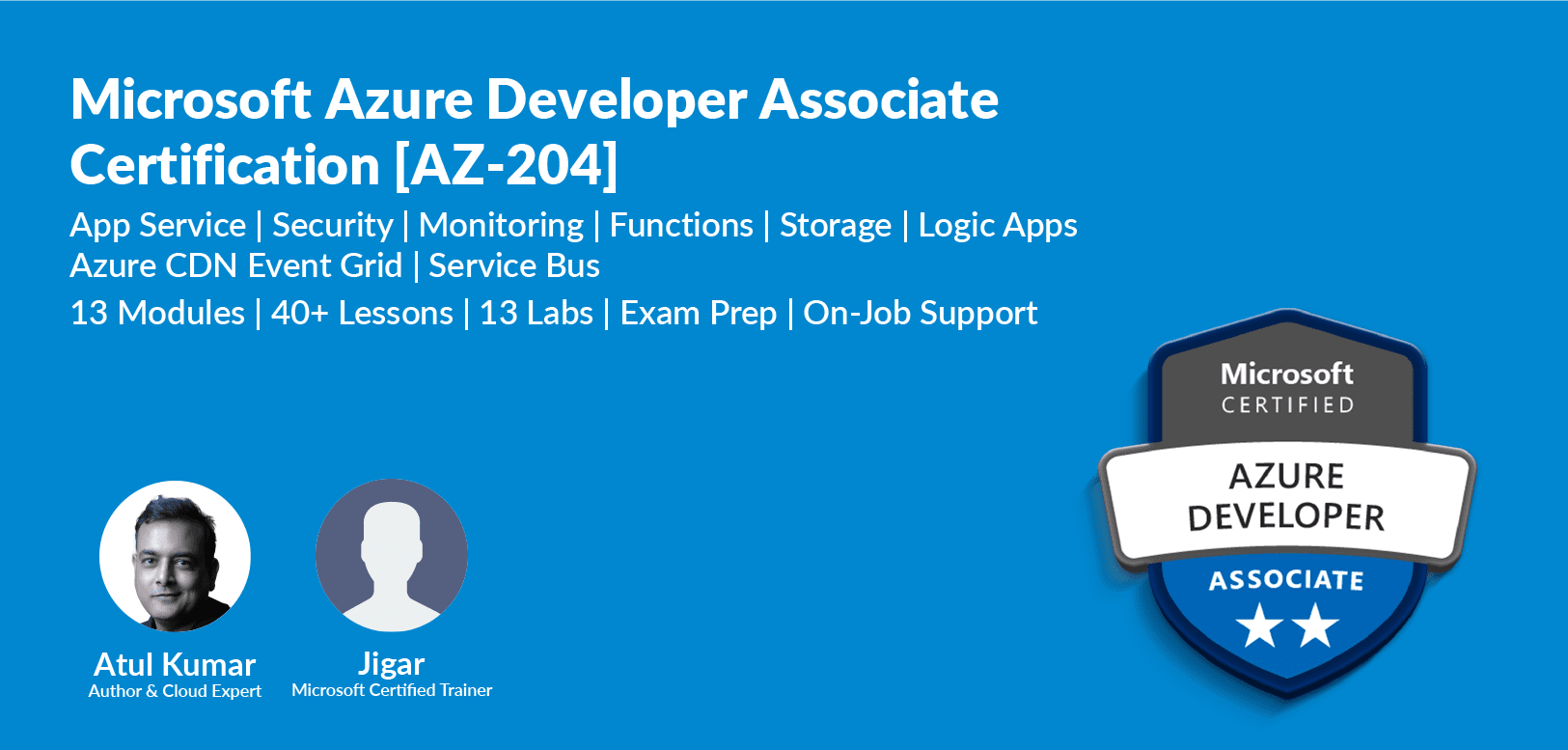 Learn Microsoft Azure Developer Associate Certification [AZ-204], from Experts
Trainer: Microsoft Certified Trainer, Jigar and Oracle ACE & Author, Atul Kumar
What will you get?
Training Material with Hands-On Lab Exercise
18×5 Email Support (contact@academy.com)
Whatsapp Group Support
Course Materials
Module 1: Creating Azure App Service Web Apps
Azure App Service core concepts
Creating an Azure App Service Web App
Configuring and Monitoring App Service apps
Scaling App Service apps
Azure App Service staging environments
Module 2: Implement Azure functions
Azure Functions overview
Developing Azure Functions
Implement Durable Functions
Module 3: Develop solutions that use blob storage
Azure Blob storage core concepts
Managing the Azure Blob storage lifecycle
Working with Azure Blob storage
Module 4: Develop solutions that use Cosmos DB storage
Azure Cosmos DB overview
Azure Cosmos DB data structure
Working with Azure Cosmos DB resources and data
Module 5: Implement IaaS solutions
Provisioning VMs in Azure
Create and deploy ARM templates
Create container images for solutions
Publish a container image to Azure Container Registry
Create and run container images in Azure Container Instances
Module 6: Implement user authentication and authorization
Microsoft Identity Platform v2.0
Authentication using the Microsoft Authentication Library
Using Microsoft Graph
Authorizing data operations in Azure Storage
Module 7: Implement secure cloud solutions
Manage keys, secrets, and certificates by using the KeyVault API
Implement Managed Identities for Azure resources
Secure app configuration data by using Azure App Configuration
Module 8: Implement API Management
API Management overview
Defining policies for APIs
Securing your APIs
Module 9: Develop App Service Logic Apps
Azure Logic Apps overview
Creating custom connectors for Logic Apps
Module 10: Develop event-based solutions
Implement solutions that use Azure Event Grid
Implement solutions that use Azure Event Hubs
Implement solutions that use Azure Notification Hubs
Module 11: Develop message-based solutions
Implement solutions that use Azure Service Bus
Implement solutions that use Azure Queue Storage queues
Module 12: Monitor and optimize Azure solutions
Overview of monitoring in Azure
Instrument an app for monitoring
Analyzing and troubleshooting apps
Implement code that handles transient faults
Module 13: Integrate caching and content delivery within solutions
Develop for Azure Cache for Redis
Develop for storage on CDNs
How I will execute Practicals?
Yes, We provide step by step guide to creating a FREE Trial Microsoft AZURE Cloud account using your own login id and password.
Who is the Instructor?
All our instructors are working professionals from the Industry and have at least 12-15 years of relevant experience. They are subject matter experts and are trained by K21 Technologies for providing online training so that participants get a great learning experience.
Can I attend Demo session?
We have a limited number of participants in a live session to maintain the Quality Standards. hence, participation in a live class without enrolment is not possible, unfortunately. However, we provide 100% money back guarantee within the next 60 days, as long as you show proof that you took action i.e attended sessions & did activities as mentioned in Activity Guide.
What are the system requirements to attend this training?
All you need is good internet connection ( we recommend 0.5 MB or 512 KB ) with (headset preferably) and leave rest on us. For lab exercises you connect to K21 cloud remotely using VNC client that is freely available . We provide step by step instructions to connect to our servers in word with screenshots and we also provide video instructions for this.
More queries ? Contact Us
Contact us at contact@k21academy.com or give us a call on US +1 415 655 1723 | India +91 844 844 8901